I have nothing of real substance to share today. That's fun right?
The Mister is on a quick work trip to Mexico at the moment. I find these opportunities to be very "
when the cat's away the mice will play
" moments. Even though I have plenty of responsibility of my own, something about him not being here to keep me acting like a reasonable adult has lead to me resolving to pull some night-owl design (
aka staying up past 3am to doodle instead of keeping normal adult hours... which is, let's be honest, when I do my best work
), and sleep in like crazy tomorrow, and also I'm making a batch of cookies.
Said cookies will be gone by the time he gets home tomorrow night. I have no shame about this.
Except we're out of milk. So you better believe I just paused the writing of the blog post and went to the gas station to get a gallon of moo juice. Did I mention that earlier today I thought "
I should see what happens if I put my hair in foam rollers.
"? No? Because this is apparently what happens.
the derpiest photo of myself on the internet. so far.
Yep. I would suspect though, that a chick in her PJs with half a permed-head, is probably typical clientele for the Speedway this late at night. (
edit from after when I went: yeah, I was not the weirdest looking person in there by far.
)
Meanwhile, the groundhog is back. Remember when I blogged about that
little
fuzzy
jerk
last year? Okay so we trapped him, and relocated him. And I thought "
ha. I win. That's the end of that.
"
Then I looked out the kitchen window a few weeks ago to see another groundhog pulling a pea-plant out of my beloved garden by it's roots. I rage-faced about that long enough to set another trap. Caught and evicted him, and I thought "
ha. I win. That's the end of that."
I wash my hands of this tom-foolery.
Two days ago I let Addie and Mac out into the yard a ended up having to sling Addie over my shoulder to carry a very ecstatic hound dog* back into the house when she tried to dig her way under the shed after yet a THIRD groundhog.
Sooooo I reset the trap.
This morning I let the dogs out before I went to work. I open the office at this job, so it was early. The sun had just finished coming up over the trees, I had been awake for only the mere 28 seconds it takes to roll out of bed and open the back door for the dogs, and I was wearing only boxers and an oversize t-shirt. I was not wearing a bra, socks, shoes, or glasses, but I did still manage to fuzzily see that Addie's white-tipped tail shot up into the air as she trotted faster than her usual lumber-trot toward the wrong corner of the yard. I had to break-neck run out into the yard to catch Addie, and yet again sling all of her 50 pounds over my shoulder to carry her, squirming and wiggling* away from the very angry, very snarly
raccoon
. (
full grown and pissed. not like last year's cutie patootie little one. or maybe the same one all grown up?
) Thankfully in these situations, Mac is more than happy to just go back inside the house and pretend that nothing is out of the ordinary. Because 5:30AM is too early for him, too.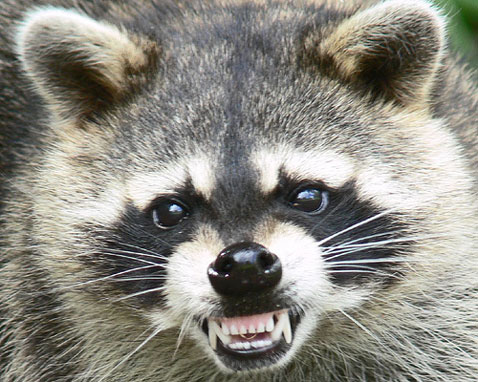 For lack of any better ideas (
as my brain was not yet functioning
), I just opened the trap and let the nasty dude run off over the fence. Ugh.
I know that logically, this is three separate groundhogs and a racoon I'm dealing with. But it just makes me think of this:
Anyone remember this cartoon? Been stuck in my head all day.
How do you keep it safe from varmints?
(we've done fencing, the liquid fence spray, mothballs, and a ring of cat crap -thanks Bubba- around the perimeter. So far, no dice.)
Do you cohabitate? What do you do when you're left to your own devices in your home?
*98% of the time, Little Miss Addie Pants looks like this:
Oh yes, she's figured out the bed now. God help us.
the remaining 2% of her time is split between eating foods, and getting more excited than Honey-Boo-Boo on go-go juice over a raccoon.
Seriously though: Someone adopt this puppy. She needs a forever home without another dog so she can monopolize the bed properly. Mac and her share poorly (aka they try to covertly kick each other off the sides)